Monday
9:15 a.m. All Levels
4:30 p.m. All Levels Yoga
6 p.m. Hot Yoga
7:30 p.m. Moon Flow
Tuesday
5:30 a.m. Hot Yoga
9:15 a.m. Power Yoga
4:30 p.m. Beginners Yoga
6 p.m. Hot Yoga
7:30 p.m. Yin
Wednesday
9:15 a.m. Yoga
2:00 p.m. Pre Natal Yoga
4:30 p.m. All Levels Yoga
6 p.m. Hot Yoga
7:30 p.m. Hips/Hams
Thursday
9:15 a.m. Gentle Yoga
4:30 p.m. Hot Yoga
6 p.m. Hot Yoga
Friday
5:30 a.m. Hot Yoga
9:15 a.m. Yoga
6 p.m. Hot Yoga
Saturday
7 a.m. Hot Yoga
9 a.m. Hot Yoga
11 a.m. Kids (4-11)
Sunday
8:00 a.m. Hot Yoga
9:30 a.m. Hot Yoga
5:30 p.m. Yin
ONLINE OFFERINGS
can be found @ https://www.youtube.com/channel/UCTOoVyz9wIIZ4gujU7N2NEg/featured
Check out classes by Marisa B, Nat, Chaitali and Suzanne which vary in length, rigor, style and content. Please let us know what you want more of so that we can try to add those classes to the repertoire. Stay tuned and keep checking!
Description and length of each class will be on the put on the website soon!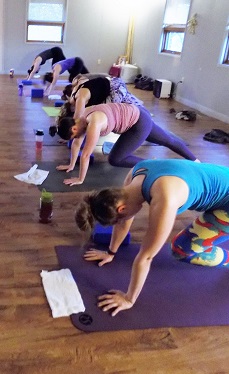 Karma is Open
** if you received a notice about a class being rescheduled or cancelled, it was due to changing the time zone on the web site. Please disregard the notice. Call, e-mail or check the Manage Class Reservations page if you'd like to confirm your reservation.
Our first few days have been wonderful. We are so happy to see so many of you returning to yoga, and we love having you in the sacred space. We feel light and happy having you back.

NEW PRICING 11 class card is $96, 5 class card is $43, all classes are $9. Purchase of unlimited cards is suspending until class size restrictions are lifted.

Since registering for classes has started, we can see what you want more of, and the following has been added:

MOON FLOW class on MONDAYS @ 7:30 size is very limited

HOT class on THURSDAYS at 4:30 (recurring) beginning July 9

MALA MAKING WORKSHOP (LIMITED SPACE) SATURDAY JULY 18, @1:30 to 2:30 with Mira. Blessing of the beads at 2 with Suzanne. Mala's are long "necklaces" made of 108 prayer beads that are used to chant affirmations or mantras. They are extra special if you make them for yourself or others (instead of buying them). The cost is $50. Mira provides the various types of beads (often beads relate to purposes declared), stringing material, guru bead and tassel along with expertise in design and support. Once you have created your malas, we will bless them.

HOT class on SUNDAYS at 8am (recurring) beginning July 12

PreNatal Yoga on Wednesdays at 2 (while the class is geared toward pregnant women all are welcome to support Sandy). Tell your expecting friends! Dads can come too.

PLEASE NOTE…. You are welcome to drop in and see if there is room in a class. We can add a few students and still be within the 6-foot distancing guidelines. Continue to check the website for new offerings and reserve your spot. You will know you are confirmed when you receive an email saying CONGRATULATIONS (the program's choice of notification we might say Hare Om or Namaste).

Your class card will be in the new box and you can give it to the teacher who will punch it and return it to you. Sanitize your hands before entering the practice room and on your way to the restrooms (new station set up for that).

Thank you for your continued support and please know that we are honored you choose to practice yoga at Karma.
The Karma schedule has some slight differences so please check it carefully. Classes will be added as the weeks pass and we see what is possible, desirable, and accessible. As you read last month, Karma has a NEW look! It has also been thoroughly cleaned and yet has still maintained all the spiritual energy that you gave it over the last 5 years.
SAFETY FIRST
It is imperative that you feel safe coming to class at Karma. Procedures are in place and can be modified as needed and with feedback.
NEW CLASSES, TIMES
Classes will be on a modified schedule which will be revised weekly. ALWAYS CHECK FOR UPDATES BEFORE COMING! WE HAVE A NEW PROCEDURE! Updates will be on FB and the website. The new schedule allows for time between classes; giving the students chance to clear the practice room and a space for the next class to settle without contact, and for cleaning. Deep cleanings will be done on weekends.
SIGN-UP!
Class size will be limited to 9. ALL CLASSES REQUIRE SIGN UP IN ADVANCE TO INSURE A SPOT. You can sign up for a class up to 48 hours in advance on the KARMA website; mykarmayoga.net There is a tab on the website for sign-up, which asks for name, email and phone. A class is full when 9 students have registered. Once you begin the registration you will see a number at the top of the form that looks like 2/9 you will know if there is room for you in the class. You will also get a confirmation email. You are welcome to drop-in, call the Karma phone to see if there is room, and continue to check the website for open classes and available spaces. We can also let you know if a class has to be cancelled. We will monitor how this is working and if needed, we can add extra classes on certain nights and weekends, and adjust class times.
PAYMENTS
ALL CLASSES WILL COST $9. From the information you leave at sign-up, we can find and pull your class card in advance. Class cards, checks or cash are accepted when you arrive for class. No payment is ACCEPTED at the time of sign up on the web. If you cannot attend a class you registered for, kindly go back into the tab and remove yourself as a courtesy to those who might like to take the class. If you do not come to your registered class, and you did not go back and remove your name, we would appreciate it if you paid the $9. Again, NO money is due at sign up, so payment will happen before your class AT THE STUDIO. Class cards will be in a new box (or out before your arrival) and can be purchased as usual (see pricing). All PRIOR class cards will be honored.
NEW CLASSROOM PROCEDURES
You will wear your mask when you enter Karma and during the check in process. The following steps will be taken; you will PRE-REGISTERED for a class on the Karma website and you will have received confirmation that you are able to attend. ONLY 9 students for each class. An infrared temperature scanner will be used to take your temperature, then sanitize your hands before entering the practice room (keeping the door handle always germ free) where you will find a social distance space for your mat that is marked with the blue tape. Put your mask on your mat and put it on to use the bathroom and/or feel the need to cough or sneeze. If you want to use a prop (for now) kindly bring your own and know that we will not be doing physical assists, third eye massage or other touching (until it is allowed). Water is $1. No free water is available at this time. If you buy a water give the money to the teacher then kindly wipe down the refrigerator handle and respray your hands before entering the practice room. All classes will be an hour or a few minutes OVER and hour to maintain the flow of students coming in and out. We are trying to keep roughly the same class times and we are willing to hear what classes you would like added. Hot yoga classes at 6pm will be shortened to one hour and 5 minutes leaving time to leave the studio before the next group of students arrives. WE will follow all restrictions as directed by governmental officials. Again, feeling safe and obtaining optimal health is our primary goal.
OTHER WAYS TO TAKE CLASSES
Suzanne is available for private or semi-private classes on ZOOM. The fee is a donation to Karma. Please call or email for details. 413 575 6607 or info@mykarmayoga.net
ONLINE OFFERINGS
We anxiously await your physical return to Karma but until that is possible for you, we have started to record some classes presented by your favorite Karma teachers. We resisted this venue but now feel it is probably a venue that is here to stay for a certain segment of our yoga community. These classes are NOT live but recorded. Classes vary in length and are available on You Tube for FREE. Online classes will continue to be added and we hope that you enjoy them and feel connected to Karma. While we are not experts at cinematography or even yoga, we humbly present these perfectly imperfect classes so you can continue on your yoga journey knowing we are available for you. In the future we will record live.

Next 200 Hour Teacher Training- September 2020

Next 300 Hour Teacher Training- Ongoing

Continuing Education- Karma Yoga is certified by Yoga Alliance to provide continuing education for yoga teachers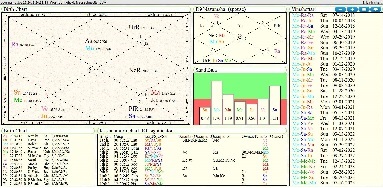 Suzanne has been studying how to read natal birth charts for 2 years now and she has done over 100 readings. She is offering to create your chart and give you a reading for $45 (these kind of readings cost anywhere from $150-400 depending on the astrologer). Because you are connected with Karma (and Suzanne is still studying) you can have a quality reading for this very low rate. You will learn how to remediate some of the negative aspects of your chart and how to enhance those positive aspects that your chart displays. You can schedule your chart reading by calling 413 575 6607 or by emailing info@mykarmayoga.net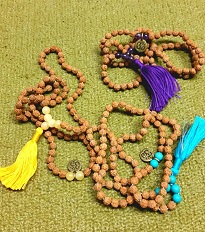 We now have beautiful handmade Mala beads from India available for purchase for $15.
A mala (or Buddhist prayer beads) is a string of 108 beads that is a traditional tool used to count the number of times a mantra is recited and to help the mind focus on meditation.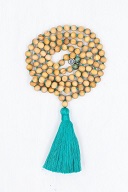 Sign up for our newsletter here