Monday
9:30 a.m. All Levels
4:30 p.m. Hot Yoga
6 p.m. Hot Yoga
7:30 p.m. Moon Flow
Tuesday
5:30 a.m. Hot Yoga
9:30 a.m. Hot Yoga
4:30 p.m. All Levels Yoga
6 p.m. Hot Yoga
7:30 p.m. Yin
Wednesday
9:30 a.m. Yoga
2:00 p.m. Pre Natal Yoga
4:30 p.m. All Levels Yoga
6 p.m. Hot Yoga
7:30 p.m. Hips/Hams
Thursday
9:30 a.m. Gentle Yoga
4:30 p.m. Hot Yoga
6 p.m. Hot Yoga 7:30 p.m. All Levels
Friday
5:30 a.m. Hot Yoga
7 a.m. Hot Yoga
9:30 a.m. Yoga
4:30 p.m. Hot
6 p.m. Hot Yoga
Saturday
7 a.m. Hot Yoga
9 a.m. Hot Yoga
11 a.m. Kids (4-11)
Sunday
8:00 a.m. Hot Yoga
9:30 a.m. Hot Yoga
5:30 p.m. Yin
ONLINE OFFERINGS
can be found @ https://www.youtube.com/channel/UCTOoVyz9wIIZ4gujU7N2NEg/featured
Check out classes by Marisa B, Nat, Chaitali and Suzanne which vary in length, rigor, style and content. Please let us know what you want more of so that we can try to add those classes to the repertoire. Stay tuned and keep checking!
Description and length of each class will be on the put on the website soon!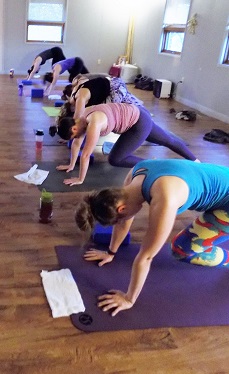 Thank you to all of our returning and new students
Your support has been a true gift. We are so happy that we are approaching our 5th week of classes. We continue to add and change classes to meet your requests.
Please continue to use the protocols – masks, sanitizer, social distancing – that are requested by the State of Massachusetts.Thank you for cooperating with these guidelines!
SOME CHANGES TO PROCEDURES YOU SHOULD KNOW ABOUT:
Our reservations schedule (called "events" on the website) extends through December (sorry about telling you it was 2 weeks only).This is both good and not-so-good, because you can reserve a spot far into the future.One of the most challenging things has been that people reserve a spot in a class which then becomes full, and then they either don't show up or don't cancel in time for someone else to take that place.With limited spaces available it is only fair to allow another student the opportunity to take class.What we hear from students is; 'I have been trying to find a class but they are all full', so please be respectful of others and cancel a class you can't attend and take out classes booked too far in advance.
We are working on a more permanent solution, which will come in the form of online payment (unless you have a Karma class card), but for now PLEASE try to remember to cancel your reservation if you are unable to attend a class.
Here is how to cancel:
Go to mykarmayoga.net
Select "Manage Class Reservations"
Select "Events" to show the classes you are enrolled
What you will see is shown below – for the visual learners.
(If you signed up not giving this information please just email info@mykarmayoga.net or text the Karma phone 413 575 6607 and ask to be removed).
Our space accommodates 12 people with 6ft guidelines, but we have limited our classes to smaller than that in case someone thinks they signed up or wishes to drop in, so we can make accommodations for those possibilities.People cancel, so check the availability up to an hour before class.
A TIME CHANGE
All 9:15am classes are CHANGED to 9:30 effective AUGUST 3 (watch for changes in the teachers too, on FB).

NEW CLASSES ADDED (register online)
Thursday at 7:30pm all levels with Kevin NEW Aug 6
Friday morning 7am HOT with Casey NEW July 31
Friday 4:30pm HOT with Suzanne NEW July 3
RECENTLY ADDED OR TYPE OF CLASS CHANGED (register online)
Monday 4:30pm HOT with Sue P
Tuesday 4:30 All levels with Bella
Wednesday 2pm with Sandy
Thursday HOT with Suzanne
Sunday 8am HOT with Sharon

FYI…We no longer sell unlimited cards (due to the class size restriction). We sell 11 ($96) and 5 ($43) class cards.Check or cash please.
Thank you again for all you do and continue to do to promote yoga and Karma. May you be doubly blessed for supporting your own healthy minds, bodies and spirits.
Namaste Hare OM! Sending blessings!
SAFETY FIRST
It is imperative that you feel safe coming to class at Karma. Procedures are in place and can be modified as needed and with feedback.
NEW CLASSROOM PROCEDURES
You will wear your mask when you enter Karma and during the check in process. The following steps will be taken; you will PRE-REGISTERED for a class on the Karma website and you will have received confirmation that you are able to attend. ONLY 9 students for each class. An infrared temperature scanner will be used to take your temperature, then sanitize your hands before entering the practice room (keeping the door handle always germ free) where you will find a social distance space for your mat that is marked with the blue tape. Put your mask on your mat and put it on to use the bathroom and/or feel the need to cough or sneeze.

If you want to use a prop (for now) kindly bring your own and know that we will not be doing physical assists, third eye massage or other touching (until it is allowed).

Water is $1. No free water is available at this time. If you buy a water give the money to the teacher then kindly wipe down the refrigerator handle and respray your hands before entering the practice room.

All classes will be an hour or a few minutes OVER and hour to maintain the flow of students coming in and out. We are trying to keep roughly the same class times and we are willing to hear what classes you would like added. Hot yoga classes at 6pm will be shortened to one hour and 5 minutes leaving time to leave the studio before the next group of students arrives.

WE will follow all restrictions as directed by governmental officials. Again, feeling safe and obtaining optimal health is our primary goal.
ONLINE OFFERINGS
We anxiously await your physical return to Karma but until that is possible for you, we have started to record some classes presented by your favorite Karma teachers. We resisted this venue but now feel it is probably a venue that is here to stay for a certain segment of our yoga community. These classes are NOT live but recorded. Classes vary in length and are available on You Tube for FREE. Online classes will continue to be added and we hope that you enjoy them and feel connected to Karma. While we are not experts at cinematography or even yoga, we humbly present these perfectly imperfect classes so you can continue on your yoga journey knowing we are available for you. In the future we will record live.

Next 200 Hour Teacher Training- September 2020

Next 300 Hour Teacher Training- Ongoing

Continuing Education- Karma Yoga is certified by Yoga Alliance to provide continuing education for yoga teachers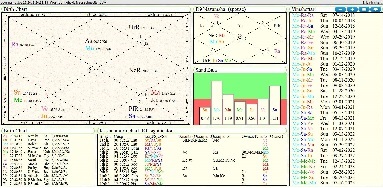 Suzanne has been studying how to read natal birth charts for 2 years now and she has done over 100 readings. She is offering to create your chart and give you a reading for $45 (these kind of readings cost anywhere from $150-400 depending on the astrologer). Because you are connected with Karma (and Suzanne is still studying) you can have a quality reading for this very low rate. You will learn how to remediate some of the negative aspects of your chart and how to enhance those positive aspects that your chart displays. You can schedule your chart reading by calling 413 575 6607 or by emailing info@mykarmayoga.net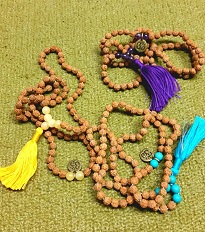 We now have beautiful handmade Mala beads from India available for purchase for $15.
A mala (or Buddhist prayer beads) is a string of 108 beads that is a traditional tool used to count the number of times a mantra is recited and to help the mind focus on meditation.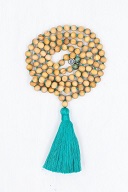 Sign up for our newsletter here