Monday
9:30 a.m. All Levels
4:30 p.m. Hot Yoga
6 p.m. Hot Yoga
7:30 p.m. Moon Flow
Tuesday
5:30 a.m. Hot Yoga
9:30 a.m. Hot Yoga
4:30 p.m. All Levels Yoga
6 p.m. Hot Yoga
7:30 p.m. Yin
Wednesday
9:30 a.m. Yoga
2:00 p.m. Pre Natal Yoga
4:30 p.m. All Levels Yoga
6 p.m. Hot Yoga
7:30 p.m. Hips/Hams
Thursday
9:30 a.m. Gentle Yoga
4:30 p.m. Hot Yoga
6 p.m. Hot Yoga 7:30 p.m. All Levels
Friday
5:30 a.m. Hot Yoga
7 a.m. Hot Yoga
9:30 a.m. Yoga
4:30 p.m. Hot
6 p.m. Hot Yoga
Saturday
7 a.m. Hot Yoga
9 a.m. Hot Yoga
11 a.m. Kids (4-11)
Sunday
8:00 a.m. Hot Yoga
9:30 a.m. Hot Yoga
5:30 p.m. Yin
ONLINE OFFERINGS can be found @ https://www.youtube.com/channel/UCTOoVyz9wIIZ4gujU7N2NEg/featured Check out classes by Marisa B, Nat, Chaitali and Suzanne which vary in length, rigor, style and content. Please let us know what you want more of so that we can try to add those classes to the repertoire. Stay tuned and keep checking! Description and length of each class will be on the put on the website soon!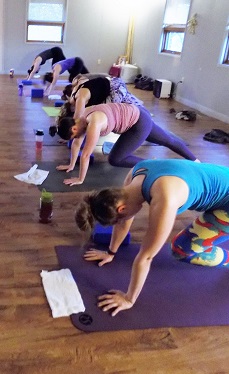 Karma going strong and we continue to need your help
By now you know that all classes are by registration only. We apologize if you can't come to your first choice in classes, and we encourage you to check back often to see if a space has opened up. Also remember that we can no longer offer a class for one person. So if you see that the class says 1/10 know that unless others sign up, the class will be cancelled.
If you sign up for a class and can't attend, thank you for cancelling the class so someone else can attend. The people cancelling has been better but in several of the most popular classes there are sometimes still 2 or 3 people who don't show up for a class spot that they reserved. We will be taking you out if you have not come to 3 or more classes that you sign up to attend. We really do not want to delete you from the class list but the loss of revenue and unoccupied space doesn't serve the yoga community. Please try to remember to cancel your class reservation out of respect to others who would like to attend. The teachers are also disappointed when they don't get to see you in their classes. Class prices are remaining low to make yoga affordable for you, so it is important that available revenues do not drop significantly. Four months of closure has created a financial challenge and it was the 33 class cards that many of you bought in February that held the business together during the closure. Now people are back and using those class cards so revenue is below what is needed. Your help to keep classes full is vital to the future of Karma. Please be sure that you check your reservations often. Here are the cancellation instructions;
Go to mykarmayoga.net
Select "Manage Class Reservations"
Select "Events" to show the classes you are enrolled in.
What you will see is shown below – for the visual learners. (If you signed up not giving this information please just email info@mykarmayoga.net or text the Karma phone 413 575 6607 and ask to be removed from the class).
Please continue to use the protocols – masks, sanitizer, social distancing – that are requested by the State of Massachusetts. Thank you for cooperating with these guidelines!

FYI…We no longer sell unlimited cards (due to the class size restriction). We sell 11 ($96) and 5 ($44) class cards. Check or cash please. Thank you again for all you do and continue to do to promote yoga and Karma. May you be doubly blessed for supporting your own healthy minds, bodies and spirits.
Saturday Workshops for September
Now that we are once again able to gather for workshops, we want to offer our CBD education and yoga classes on Saturday afternoons. During the yoga class you will be introduced (by trying) the many CBD products. Skin care products are also available to sample. We are also offering an Essential Oils class on September 19. It is taught by Savohna and there will be no charge. Please come and enjoy…
CBD OIL EDUCATION and CBD yoga class $9
September 12th, 19th and 26th @ 1-2 pm Karma Yoga. Registration required.
CBD education and yoga classes on Saturday afternoons. During the yoga class you will be introduced (by trying) the many CBD products. Skin care products are also available to sample.
COLD LASER CLASS
(see below) call for information
September 12 @ 2-3 at Karma Yoga. Registration required
INTRODUCTORY OFFER, attend this class for $10 and buy a 4 treatment card for $40 (those treatments will be by appointment). **
ESSENTIAL OIL workshop with Savohna. FREE
September 19 @ 2:30pm Karma Yoga. Registration required.
In the workshop you will learn how to solve emotional imbalances using these powerful and healing oils. The oils used are the purest essential oils on the market, and they are backed by scientific research. These oils are currently being used in some of the best research hospitals in the world, such as Vanderbilt. Now you have access to their healing potential, so you may use them to heal.
YIN WORKSHOP with Kate B $75 ($50 for Karma teachers or teachers in training)
September 26 @ 3-7pm Karma Yoga. Registration required. This workshop is intended for any lover of the practice of YIN yoga. Yin is such a deeply rich multifaceted practice that the hour long weekly classes only barely skim the surfaces of our physiological, spiritual and energetic experience, and only touch the science and philosophical depths of the practice. It is my pleasure to honor the request of the Yinsters of Karma Yoga for more a longer, richer Yin experience through this 4 hour workshop offering.
The time will allow for more and un"usual" postures, exploring the scientific principles of Yin practices, an exploration of the many perspectives you can embrace as a Yin practitioner and the luxury of having more time to travel in the somatic experience of your Yin practice.
If you are new to Yin this is a perfect opportunity for an intimate and informative first experience and if you are already a practicing Yin yogi it's a wonderful opportunity to expand your understanding and explore more deeply what Yin has to offer you and what you have to offer yourself.
Yin is a slow yoga practice that focuses on healing and restoring the body's hard tissues and freeing the pranic flow in our energy systems. In the long yet "effortlessly" held asanas we "drop in" to the quiet space of the parasympathetic nervous system and in that meditation the body repairs, the mind quiets and we can travel within our energy body delivering healing and releasing bound energy that shows up as joint pain, mental anguish or an overall dis-ease. Join us! Sat Nam
COLD LASER TREATMENTS coming to KARMA
COLD LASER TREATMENTS from OPTIMAL HEALTH AND BEAUTY @ KARMA Cold lasers have been used for almost 30 year, and are being used to treat a variety of conditions. In order to promote optimal health and enhance beauty, Karma is now offering cold laser treatments. We have the ML830 treatment device, a handheld laser that is an FDA Class lll B Laser, medical approved equipment for treatments of a variety of conditions such as; acne, arthritis, back pain, bone repair, carpal tunnel syndrome, cerebral palsy, degenerative disc disease, fibromyalgia, herniated disc, siatica, inflammation joint pain, lesions, neck pain, neuralgia, plantar fasciitis, post-surgical pain, wrinkles, scars, vertigo, sprains, tendonitis and other physical challenges. We are designing different methods of delivery to incorporate the laser. We want to offer a way that will afford the maximal effectiveness and longer lasting results of the treatment. The most effective way to use this technology is to apply CBD liquid, then the laser therapy, then heat and stretches. For that delivery method, we will use Karma in a type of class setting on Saturday afternoons. This treatment method is the most effective and the most costly. To find out how this will work, call, text or email for more information. The other method involves a series of spot treatments with the laser. These will be sold in a package of 4 or 9 treatments. You buy a card at your first session, then we punch it each time you get a treatment. Treatments can happen before or after classes, or by appointment. These treatments may vary in length depending on what area you want treated, but are about 10 minutes. The cost is dependent on the area treated and the duration of treatment.
All treatment pricing is at an INTRODUCTORY level, to confirm the effectiveness of the laser, and to introduce you to the positive benefits of cold laser treatments.
Laser therapy is a wonderful tool for healing, and useful for just about any health challenge. The scientific evidence is considerable, but results will differ from one individual to another. Our laser is not the common $10 pointer that you buy to entertain your cat, nor the $300 personal use machine you buy on Amazon. It is a very expensive sophisticated device, used with or without CBD oil to ai healing. In life there is little that is a guarantee, but for less than you might spend for an adult beverage it is worth a try! Did you know it is also useful for all animals (used my many veterinarians) and the results are not a placebo effect!
OTHER ONLINE OFFERINGS
ZOOM CLASSES
TREES FREE
September 15 @ 7pm Registration required
Trees? You ask what do trees have to do with yoga? Well, trees expose you to the energy of nature and increase the feelings of well-being, lower blood pressure, heart rate and reduce stress hormones and muscle tension. While 40% of yoga poses are named after animals, animals live in nature so we can easily connect all living things including tress.
The information about trees was shared with the advanced yoga students but there is nothing advanced about it the topic. Some of the 'new' teacher trainees heard me mention the tree class and requested that I offer the class on trees. No prior knowledge is necessary. We will also be joined by a master gardener who will add to our discussion.
Sign up for this event and be sure to include a working email so that the zoom link can be sent to you. The event is listed on the class registration page. This ZOOM class will take an hour. The class is free.
INDIAN PALM LEAF READING FREE
September 16 and 19 @ 4pm via Zoom
Learn about Indian Palm Leaf readings from the founder of the company Dr. Q. Would you like yet another tool to help you navigate your life? Indian Palm Leaf reading is a totally amazing experience like no other that you have ever had in your life. How could someone thousands of year ago write about you? Find out during this class. Here is how it works from your thumb print, your LEAF is found and then read for you. You will learn about aspects of your life that can help you to live healthier, more productive and more fulfilled. Your reading might include obstacles, partners, children, destiny, karma, health or career. The leaf, just like your natal chart is a tool that provides insights and maps for you to follow. Dr. Q himself will be hosting these sessions. Sign up for either of these events and be sure to include a working email so that the zoom link can be sent to you. Dr Q will be with us for less than an hour and the class is free.

Next 200 Hour Teacher Training- September 2020

Next 300 Hour Teacher Training- Ongoing

Continuing Education- Karma Yoga is certified by Yoga Alliance to provide continuing education for yoga teachers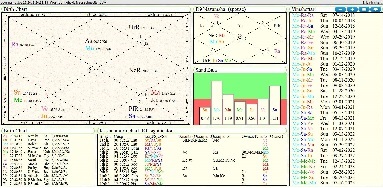 Suzanne has been studying how to read natal birth charts for 2 years now and she has done over 100 readings. She is offering to create your chart and give you a reading for $45 (these kind of readings cost anywhere from $150-400 depending on the astrologer). Because you are connected with Karma (and Suzanne is still studying) you can have a quality reading for this very low rate. You will learn how to remediate some of the negative aspects of your chart and how to enhance those positive aspects that your chart displays. You can schedule your chart reading by calling 413 575 6607 or by emailing info@mykarmayoga.net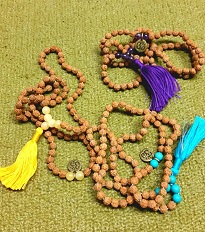 We now have beautiful handmade Mala beads from India available for purchase for $15.
A mala (or Buddhist prayer beads) is a string of 108 beads that is a traditional tool used to count the number of times a mantra is recited and to help the mind focus on meditation.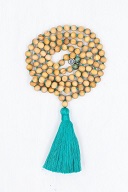 Sign up for our newsletter here